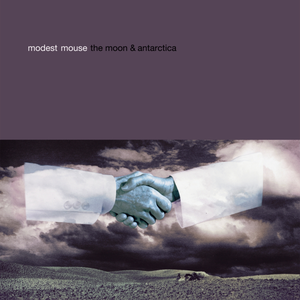 Album: The Moon & Antarctica
Artist: Modest Mouse
Release Date:
Album Tracks:
The Moon & Antarctica is the third full-length album by rock band Modest Mouse, first released by Epic Records on June 13, 2000. The album was the band's first release on a major label and was released on both compact disc and vinyl LP. The album peaked at number 120 on the U.S. Billboard 200 albums chart. It was praised by critics and fans alike for its in-depth discussion of dense subject matter, as well as frontman Isaac Brock's clever and introspective lyrics. The Moon & Antarctica was also hailed for being an expansion of the band's unique sound. This was due both to the band's new major label tools as well as the production of Brian Deck. Pitchfork Media ranked the album as the third best album of 2000, trailing Kid A by Radiohead and Ágætis Byrjun by Sigur Rós. In February 2005, Pitchfork named it the seventh best album of the years 2000 through 2004. The Moon & Antarctica was voted the sixth best album of the decade by Pitchfork in October 2009. In 2008, betterPropaganda ranked the album number 23 in their Top 100 Albums of the 2000s. The album ranked number 37 in Entertainment Weekly's "The New Classics," a list of the hundred best albums form 1983-2008. In March 2009, the album was certified gold by the RIAA in the United States. The song "Gravity Rides Everything" is featured in the film "Accepted" (2006). User-contributed text is available under the Creative Commons By-SA License; additional terms may apply.