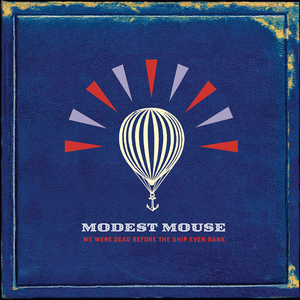 Album: We Were Dead Before The Ship Even Sank
Artist: Modest Mouse
Release Date:
Album Tracks:
We Were Dead Before the Ship Even Sank is the fifth studio album by American indie rock band Modest Mouse, released in 2007. The album is the first studio album by the band since their 2004 album, Good News for People Who Love Bad News and is also the first album with former Smiths guitarist Johnny Marr as a member of the band. It has a strong nautical theme and was originally envisioned as a concept album about a boat crew that dies in every song. This album was certified Gold for sales of over 500,000 copies in the USA. The album was recorded at Sweet Tea Studio in Oxford, Mississippi with producer Dennis Herring, becoming the second consecutive Modest Mouse album to be recorded at that location and with that producer. The original drummer for Modest Mouse, Jeremiah Green, also returned to the band for this album. Additionally, James Mercer of The Shins sings backup vocals on the tracks "We've Got Everything," "Missed The Boat," and "Florida." In its first week of release, the album debuted at #1 in the Billboard 200 selling 128,585 copies. The album went gold in Canada in June 2008 and sold 50,000 copies. User-contributed text is available under the Creative Commons By-SA License; additional terms may apply.